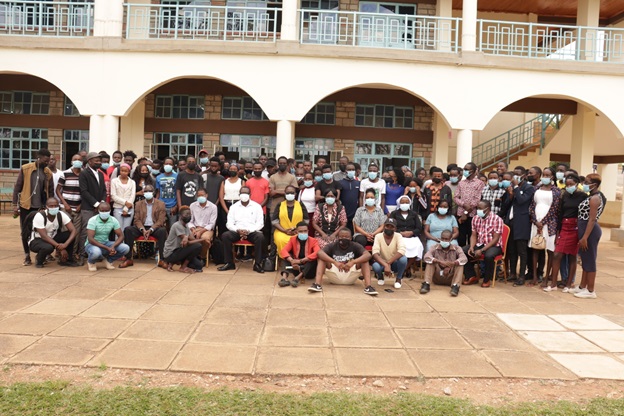 MMUST JOURNALISM AND MASS COMMUNICATION STUDENTS INTERACT DIRECTLY WITH KEY INDUSTRY PLAYERS IN MEDIA FROM THE DEUTSCHE WELLE AKADEMIE ALUMNI (KENYA)
Speaking during the forum, the Director of Corporate Communications and Marketing at MMUST, Dr. Lydia Anyonje advised the students to uphold ethical practices in journalism. "We have trained you to do the right thing pertaining to journalism. Your personal integrity and morality in the media industry will be key to your success," added Dr. Anyonje "We major in mentoring upcoming journalists to become ethical during their reporting. This forum is meant to expose you to corruption case scenarios in the natural working environment. You have to learn how corruption manifests itself in the media industry for you to remain principled in your reporting," encouraged Ms. Wareta. The Kisumu County Director of Communications, Ms. Atieno Otieno encouraged the JMC students to always practice ethical journalism even in the face of threats, pointing to the recent case of South Africa where journalists played an instrumental role leading to a significant revolution. She stressed on the importance of resisting the temptation of accepting 
'the brown envelope'
 as it may be the beginning of insatiable and unethical practices in journalism. She also emphasized on the need to appreciate small beginnings as the most fulfilling way of building one's career.
READ MORE
Grand Wave Consortium (GWC)
We are always happy to hear from you. Reach out to us in case you have any questions.